The Syrian Women's Commission, in partnership with the Stabilization Support Unit, continues with the provision of the series of training and activities that it implements to empower Syrian women. It organized a two-day training session in the Turkish city of Gaziantep on governance systems, forms of state, pluralism and political parties. Attendees included female activists from the liberated areas.
The training was offered by Ismail Al-Khalfan and Huda Sarjawi who talked about the forms of parliamentary, presidential and mixed systems of government, as well as the features, and the pros and cons of each form. They cited examples from many countries. They also talked about the previous Syrian constitutions and discussed some of the constitutional texts. Al-Khalfan pointed out that the constitutions that existed under the Assad regime contained problems not only in the constitutional text, but also in implementation.
Al-Khalfan explained the difference between the law and the legislative decree, the stages that the law passes through, the forms of the state and the difference between law and legislation. He also conducted a practical training where the participants were divided into working groups, with each group developing its own vision of the future form of government in Syria.
For her part, Sarjawi presented an explanation of the concept of political pluralism, the definition of the political party, the history of the emergence of parties and means of operation, the criteria of democratic parties and partisan pluralism. Participants expressed their views on the future of Syria, indicating that the Syrian political parties that were formed after the revolution need to pursue a different approach that attracts all segments of the Syrian people and addresses the problems of the Syrian people and their future hopes.
The participants also presented their ideas about the party's mission and goals, such as engaging and attracting Syrian women, practical involvement in addressing Syrians' problems away from empty slogans, setting development programs to empower the Syrian youth and women, consolidating the values ​​of justice and freedom, unlocking the people's potential, and unifying their efforts so as to serve the interests of the country and achieve the aspirations of the Syrian people.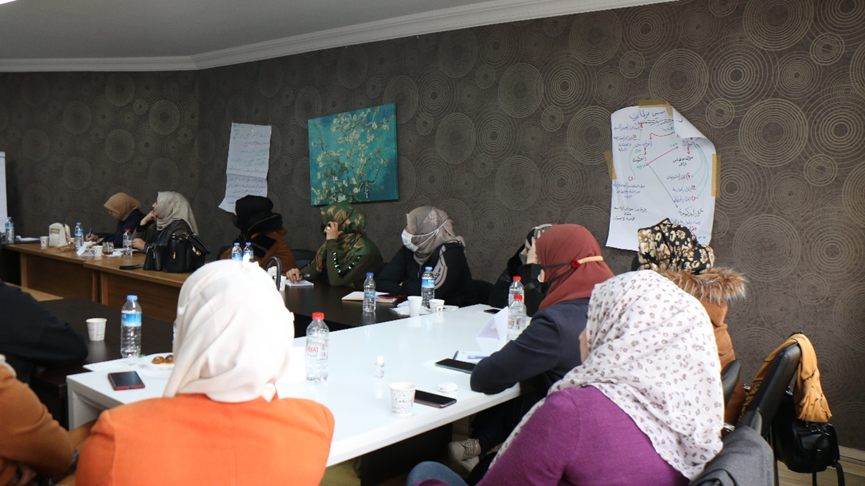 (Source: SOC's Media Department)