The Syrian Women's Commission organized a training session on the tracks of the political process in the Turkish city of Gaziantep. Attendees included female activists from the liberated areas. It came as part of the activities being implemented by the Commission in partnership with the Stabilization Support Unit to empower and enhance the role of Syrian women in politics.
The training was given by Huda Sarjawi, member of the Constitutional Committee and representative of civil society organizations. She stressed the importance of the training in strengthening the role and presence of women in political decision-making centers.
Sarjawi gave an overview on the political process, from the Geneva Communiqué and the main steps of the transitional process as was set out by the Communiqué, the subsequent UN resolutions, especially Resolution 2254, to proposing the formation of the Constitutional Committee.
Participants presented their views on the political process in addition to suggestions on the importance of supporting the political track in view of the requirements of the current phase. They stressed the importance of constructive criticism, addressing weaknesses, promoting democracy in society, engaging women in the political process, and mobilizing civil society organizations to support the Syrian cause.
The participants outlined their goals for participating in these training courses as highlighting the potential of women, enabling them to play a real role, challenging the stereotypes in society, increasing the political experiences of women who have proven their role at all levels, and promoting the participation between women and men to move forward in building a state of justice, citizenship and rights.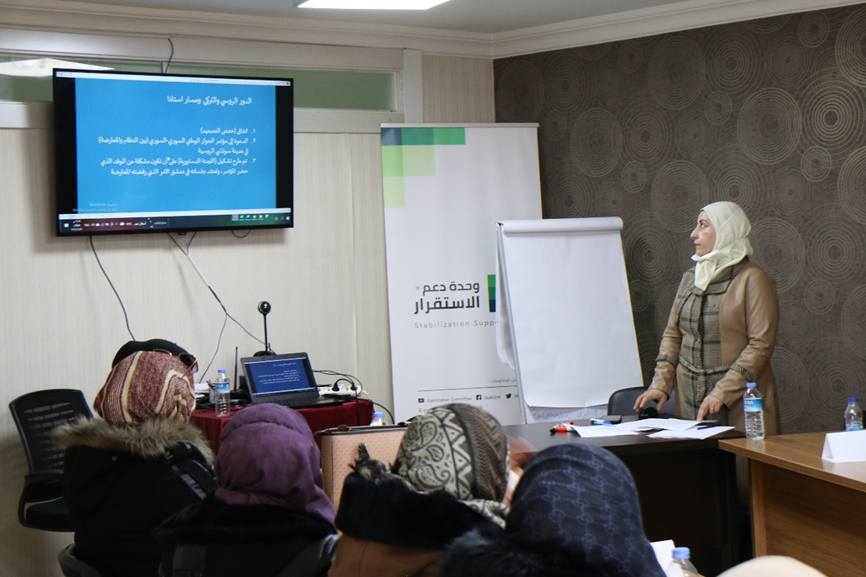 (Source: SOC's Media Department)