The Syrian Women's Authority is continuing its a series of training and activities to train and politically empower Syrian women. In partnership with the Stabilization Support Unit, the Authority organized a discussion seminar on the prospects of the Syrian Negotiations Commission's work under the current international circumstances. The Authority hosted the President of the Syrian Negotiations Commission, Badr Jamous, female activists and actors in public affairs.
Jamous gave a comprehensive overview on the Commission's work and the primary role entrusted to it, and its quest to achieve the aspirations of the Syrian people by seeking to open the rest of the tracks of the political process for the full implementation of UN Resolution 2254. He talked about the upcoming action plan, which will focus on rearranging the ranks of the Commission, resolving the outstanding differences, working to bring together the national opposition figures in an advisory body, and seeking to reactivate the Arab role in Syria. He also stressed the need for unity and cohesion before the Arab and international community.
Head of the Authority, Ruba Habboush, spoke about the importance of the role of Syrian women in the negotiation and decision-making processes, stressing the need to strengthen their presence and participation in political bodies. She also stressed that the sacrifices that the Syrian women are making constitute a pillar in the revolution for freedom and dignity and in building societal peace and the future of Syria.
The discussions focused on the importance of the role of Syrian women in the political solution and public affairs. Participants agreed on the need to empower women and strengthen their role in building a better future for Syria. They put forth a set of recommendations, most importantly the need for holding more discussions, conveying transparent messages to the social base of the Syrian Revolution, insisting on activating all paths of the political process, and networking with civil society.
The recommendations also focused on the role of women and the young group, stressing the need for Syrians to unite to achieve a just solution that meets the sacrifices that the Syrian people are making, starting from holding criminals accountable to building a democratic state of justice and the rule of law.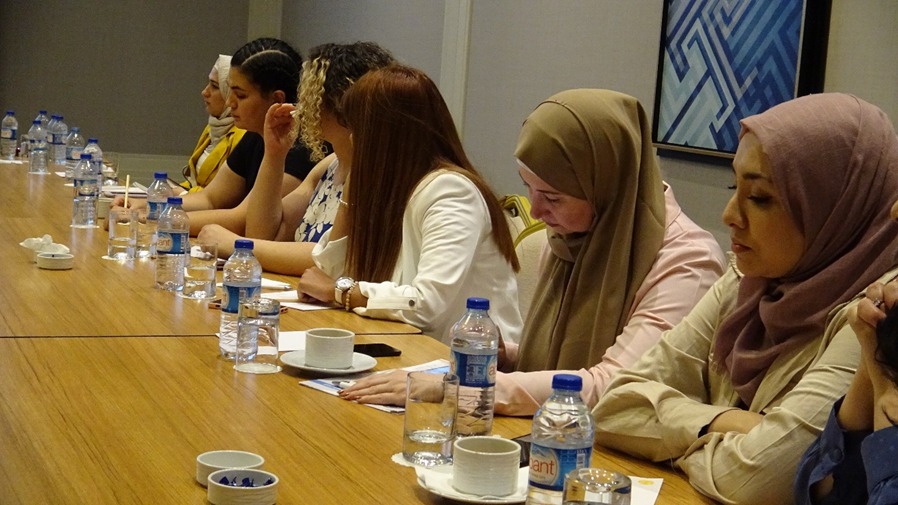 (Source: SOC's Media Department)