The Syrian Women's Commission and the Stabilization Support Unit jointly held a seminar under the title: "The Role of Civil Society and Women's Representation in the Constitutional Committee" in the Turkish city of Gaziantep. The seminar brought together Syrian women active in public affairs in the liberated areas and in Turkey. It came as a follow-up to the series of activities and training sessions that the Commission is offering with the aim of enhancing the role of Syrian women and their political and societal empowerment.
Participants discussed the beginnings of civil society activity in the Syrian scene, its impact and importance in the political, social and economic life, and the prominent role of Syrian women in it. Syrian women proved their worth as they proceeded from civil society to lead the scene and convey the message of the Syrian people in all activities and events. They also reached decision-making centers in the institutions of the Syrian revolution and the opposition.
The seminar was hosted by Judges Khaled Al-Helou and Anwar Majni, members of the Constitutional Committee in the civil society delegation. They talked about the work of the Committee and the papers submitted by the delegation. Participants emphasized the importance of civil society as well as the individual and collective initiatives undertaken by activists and human rights defenders concerned with the Syrian revolution in shedding light on international agreements and resolutions and relying on them to qualify and advocate for women and their issues so as they become an integral part in building and developing the future of Syria.
Participants recommended the implementation of projects and activities that concern Syrian women and seek to highlight their effective role without framing their work and role in accordance with the customs and laws that prevailed before 2011, as well as empowering and rehabilitating Syrian women and improving their representation in decision-making centers in the current leaderships and in the new Syria.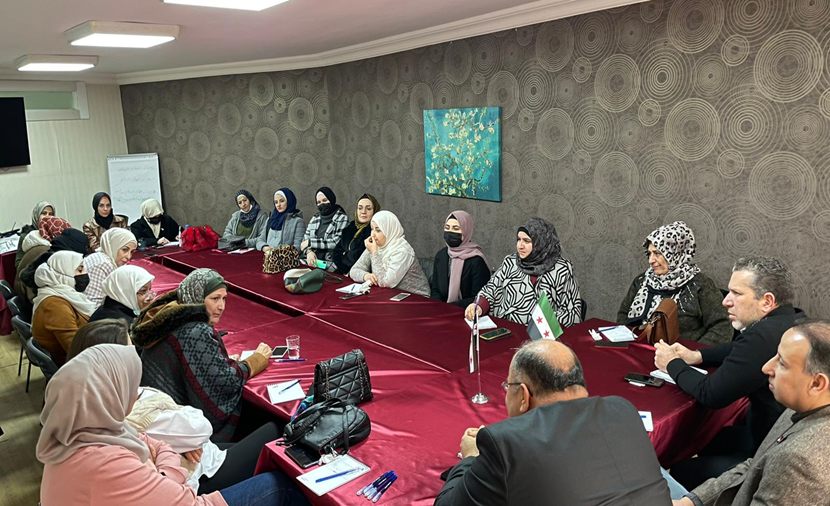 (Source: SOC's Media Department)